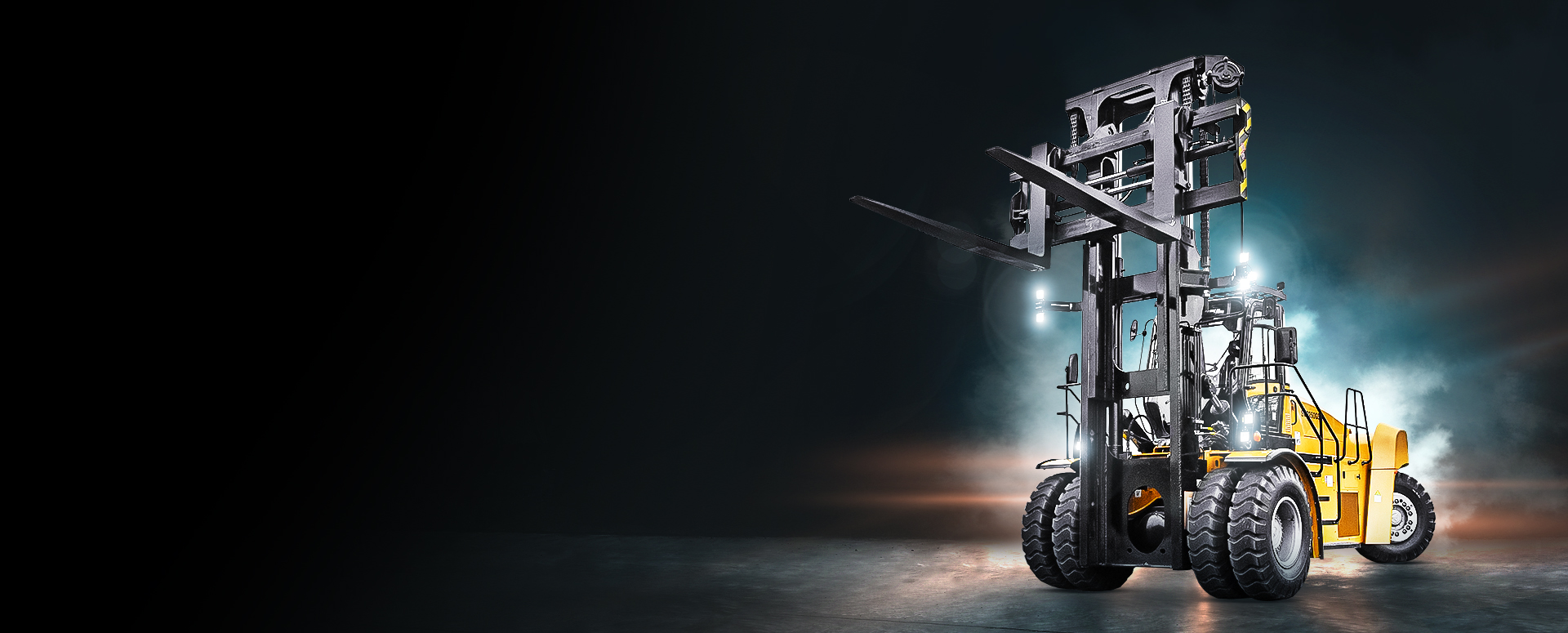 SANY_Slider_SY16C_1920x775px
AGILE
HIGHPERFORMANCE
VEHICLE
POWERFUL. ROBUST. RELIABLE.
Class
Heavy-duty-forklift
Rated power
185 kW / 2 200 rpm
Lifting capacity
25 000 kg
TOP HIGHLIGHTS
+ High lifting speed for fast work
+ Powerful acceleration due to four-speed
+
powershift gear box with torque converter
+
and automatic gear shift
+ 

Optimal weight distribution and


+

 
reduction of the front axle load
+
for reduced wear on the tyres

DEALER LOCATOR
With our European SANY Dealers, you will always find a location next to you.
TECHNICAL SPECIFICATIONS
MOVING HEAVY LOADS SAFELY WITH PRECISION
When it comes to lifting heavy cargo, SANY's heavy-duty forklift is in its element. At the port, sawmill or steel manufacture, loading precast concrete components or wind energy components – it will do a stellar job wherever loads need to be moved and positioned with precision. The box frame, which is manufactured in-house, makes it particularly robust, and, thanks to its tried-and-tested components, it is right at home in continuous use under the toughest of operating conditions. Its optimal weight distribution makes it highly stable. For agile manoeuvring, the double-action steering cylinder and the steering angle make for tight turns. The solid heavy-duty forklift combines precise, safe lifting, moving and positioning of cargo with low operating costs.
| | | |
| --- | --- | --- |
| ENGINE | | |
| Rated power | 185 / 2 200 | kW / rpm |
| | | |
| DRIVING AND LIFTING PERFORMANCE | | |
| Lifting capacity | 25 000 | kg |
| Lifting speed without/with load | 350 / 320 | mm/s |
| Lowering speed without/with load | 500 / 500 | mm/s |
| Lifting height, standard | 4 000 | mm |
| Lifting height, optional | 6 000 | mm |
| | | |
| DIMENSIONS | | |
| Total length | 8 791 | mm |
| Transport width | 3 100 | mm |
| Transport height | 4 300 | mm |
| Outer turning radius | 6 000 | mm |
EQUIPMENT
MORE OPTIONS FOR THOSE WITH MORE IN MIND
SANY heavy-duty forklifts already come with a number of equipment features ex works. They can also be adapted to individual needs for a wide range of requirements and areas of application: