The SY80U – a short-tail excavator that impresses with its price and performance
Bedburg, March 2021 – SANY is known for the well-balanced price-performance ratio throughout its entire product range. The construction machine manufacturer is now expanding its range in the compact class with the SY80U – a short-tail-swing excavator in the 8-tonne class. It offers great performance but low fuel consumption, excellent comfort features as standard and the same high-quality components as before.
The SY80U follows a clear concept – it offers performance, equipment, efficiency and, above all, the comfort of a large excavator in the compact class. For example, it boasts a suspension textile seat and intuitive ergonomic controls, including a clear display. In combination with the cleanly guided rubber track, the well-insulated and low-vibration cab ensures comfortable working over long time periods.
Compact dimensions and generous equipment
The compact excavator is designed for a wide range of uses. The SY80U covers most customer requirements and desires in its basic equipment. Two auxiliary lines and the hydraulic preparation for the quick-coupler are already integrated. The lighting equipment comes with energy-saving, durable LEDs as standard. The automatic climate control and a USB radio are also included as standard. This means optional additional equipment is only required in exceptional cases and usually only for special operations.
Proven and reliable – high-quality brand-name components
Right from the beginning, SANY has built on the reliability of core components from renowned manufacturers. The developers of the SY80U compact excavator opted for a Yanmar engine with stage V emission standard, which fulfils the requirements of European customers – and more importantly, complies with all applicable restrictions. The travel motor (Nabtesco) and the slewing gear (Eaton) also come from brand manufacturers.
Work economically and conserve resources
Cost-effectiveness and environmental friendliness are not at odds in the SY80U. In addition to the excellent price-performance ratio, its innovative design concepts make this compact excavator a true
economic wonder. The combination of electronically controlled fan, diesel particulate filter (DPF), diesel oxidation catalyst (DOC) and various working modes creates the perfect conditions for delivering optimal performance with the lowest possible fuel consumption under all operating conditions. The machine also features a fuel-saving auto-stop function.
Safe right down to the smallest details
Safety takes priority, particularly on the construction site. The SY80U is therefore equipped with cylinder guard plates, safety valves and emergency lowering as standard. It is perfectly pre-equipped for all common applications – including lifting heavy components. Mirrors, a beacon lamp and good panoramic visibility make working with the compact excavator as easy as it is safe. Last but not least, it is easy to maintain, meaning that all components can be conveniently, quickly and easily checked from the ground.
More information
Product-site:
https://www.sanyeurope.com/produkte/bagger/sy80u/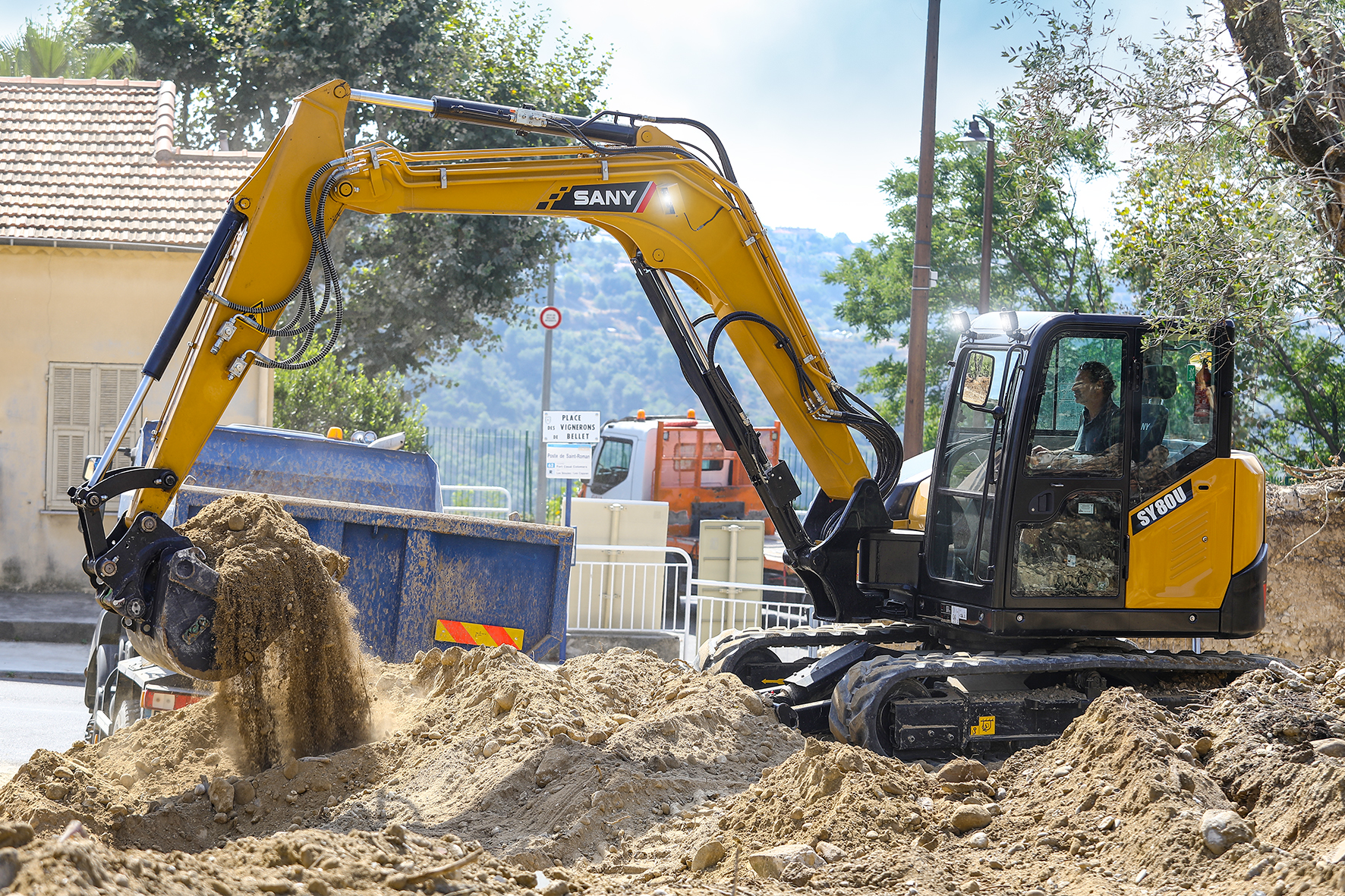 Den gesamten Artikel können Sie hier nachlesen.